Ecommerce or E-commerce (electronic commerce) is the activity of electronically buying or selling of products on online services or over the Internet. E-commerce is in turn driven by the technological advances of the semiconductor industry. Furthermore, it is the largest sector of the electronics industry.
Ecommerce is often used to refer to the sale of physical products online. It can also be describe as any kind of commercial transaction that is facilitated through the internet.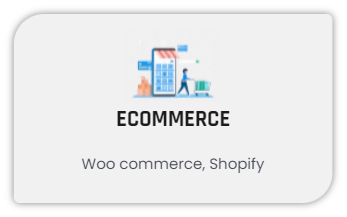 Types of Ecommerce Models
There are four main types of ecommerce models that can describe almost every transaction that takes place between consumers and businesses.
1. Business to Consumer (B2C)
When a business sells a good or service to an individual consumer. For example, you buy a pair of shoes from an online retailer.
2. Business to Business (B2B)
When a business sells a good or service to another business. For example, a business sells software-as-a-service for other businesses to use.
3. Consumer to Consumer (C2C)
When a consumer sells a good or service to another consumer. For example, you sell your old furniture on eBay to another consumer.
4. Consumer to Business (C2B)
When a consumer sells their own products or services to a business or organization. For example, an influencer offers exposure to their online audience in exchange for a fee, or a photographer licenses their photo for a business to use).
Examples of Ecommerce
Ecommerce can take on a variety of forms involving different transactional relationships between businesses and consumers, as well as different objects being exchanged as part of these transactions.
Retail
Wholesale
Drop shipping
Crowdfunding
Subscription
Physical products
Digital products
Services
E-commerce businesses may also employ some or all of the following:
Online shopping for retail sales direct to consumers via web sites and mobile apps, and conversational commerce via live chat, chatbots, and voice assistants.
Providing or participating in online marketplaces, which process third-party business-to-consumer (B2C) or consumer-to-consumer (C2C) sales.
Business-to-business (B2B) buying and selling.
Gathering and using demographic data through web contacts and social media.
B2B electronic data interchange.
Marketing to prospective and established customers by e-mail or fax (for example, with newsletters).
Engaging in pre-tail for launching new products and services.
Online financial exchanges for currency exchanges or trading purposes.
—
Thank you for reading, read more of our blogs. Furthermore, please feel free to email or call us, someone from our team will respond to your request right away, feel free to get in touch with us.
1st Source: https://en.wikipedia.org/wiki/E-commerce
2nd Source: https://www.shopify.com/ph/
"DISCLAIMER: I don't own the COPYRIGHT on the content of this article. This article is purely for sharing information only. Moreover, the owner is on the source link above, click the link to visit them."